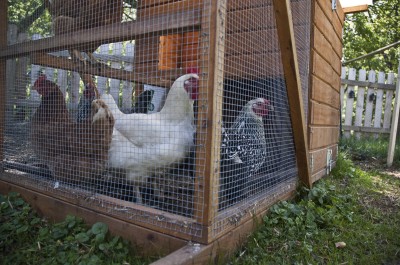 They want out.
He wants in so he can do to them what he's doing to this bucket. Chewing the crap out of it.
Since we got Bob in March we've been doing this shuffling act of letting him out, putting him in, letting the chicken out, putting them up, letting bob out. About 3-4 times a day.
I put up a chicken fence awhile ago, but not only was it not keeping him out (he would either knock it down or just hurdle it), they also would jump or just squeeze out from under it.
After a few episodes of Bob chasing the chickens and me chasing Bob, I knew this "solution" wasn't a solution at all and I really needed to put up a more sturdy, taller structure.
Read the full story and see the how to after the jump…